Manglik Dosha has lots of if's, but's and misconceptions linked in the society. Due to this some Astrologers take undue advantage of the same to earn lot's of money. However, if we refer to the classical books of Astrology, this yoga does not hold that great significance as illustrated. Also, people blindly believe in online applications and websites which allows them to simply enter their birth details and predict this dosha. However, in my practical analysis i have found 50% of these applications are not predicting even the presence of this dosha correctly. So it is important to first know through your horoscope whether you are really manglik or not. This article will help you easily judge if you are manglik or not. If Yes we would also guide you through remedies which you should follow. However, before following any remedies i would strongly advice you to consult an astrologer and take guidance in accordance to your horoscope, as blindly following any remedies wont be helpful, but can impact you in a negative way surely.
How to identify Manglik Dosha in horoscope/kundli?
If Mars (Mangal) planet is present in Ascendant, Second, Fourth, Seventh, Eight, and Twelfth house for your horoscope/kundli, then a person is said to have Manglik dosh in their horoscope. Presence of Mars (Mangal) in these house makes the person fiery, hyperactive in the areas which these houses govern. Since Ascendant, Second, Fourth, Seventh, Eight, and Twelfth house majorly govern self, marriage, family, sexual drive/energy presence of Mars (Mangal) planet can make a person emotional, touchy, and more energetic as far as these areas are concerned. Due to these factors it is preferred that a Manglik Boy marries Manglik Girl and vice versa. So the question arises, what would happen if a Manglik Boy marries a non Manglik girl and vice versa. We have explained this in the further article.
Mars in 1st House
If your horoscope has Mars in 1st house, it would look like the below image.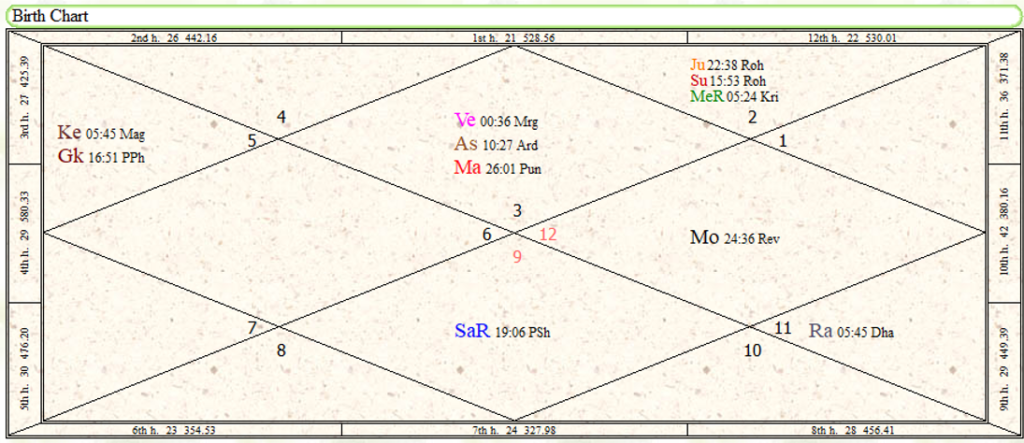 If Mars is present in FIrst House/Ascendant or Lagna like in the above shown horoscope, it aspects on 3 houses i.e. 4th house (Sukh Bhava), 7th house (Marriage, Sex, and Karma Bhava (10th house from 10th), and 8th house (Longevity, Hidden things, Sexual Organs etc). Presence of Mars in First house makes a person high tempered, arrogant, emotional, and highly active personality. These results are purely based on the sign (Rashi) it is present in. Since it aspects the 4th, 7th, and 8th house it would also impact the areas pertaining to these houses. The good and bad effects would purely depend on the position of Mars in your horoscope and other aspects present on it.
Mars in 2nd House
If your horoscope has Mars in the 2nd house. It would look like the below image.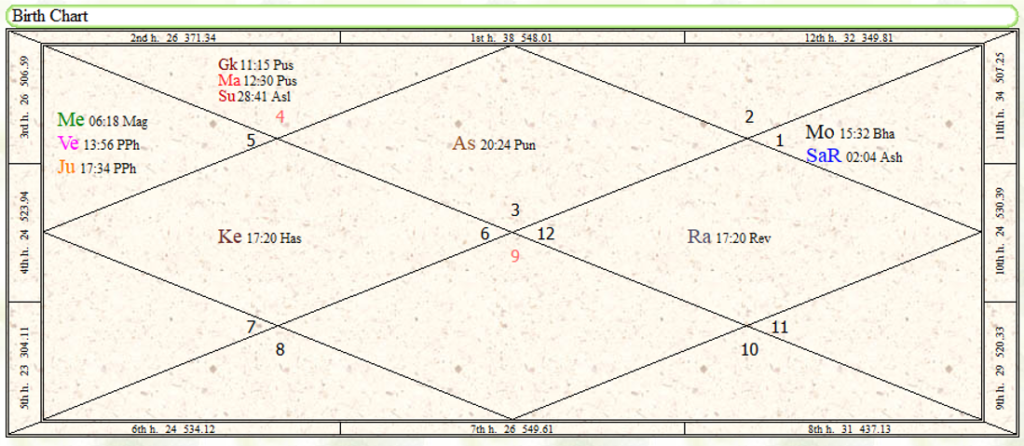 Mars in 2nd House aspects the 5th house (House of education, Love Affairs, Progeny etc), 8th house and 9th house (House of Luck, Father, Religious inclination, Long Travels etc). Aspect of Mars on 5th house can be good for technical education, science and streams where more practical skills are required. In case the aspect is a malefic one it can also affect person's stomach, can even lead to surgery and accidents. Mars aspect on 9th house can also be bad for native's father's health. Its aspect on 8th house can impact sexual organs of the native. Moreover it also makes a person sexually active. In a marriage though sex is not everything, but sex is an important factor, and non compatibility can even lead to divorce. Mars mere presence in 2nd House can also lead to conflict of native with his family and within in laws as well.
Mars in 4th House
If your horoscope has Mars in 4th house, it would look like the below image.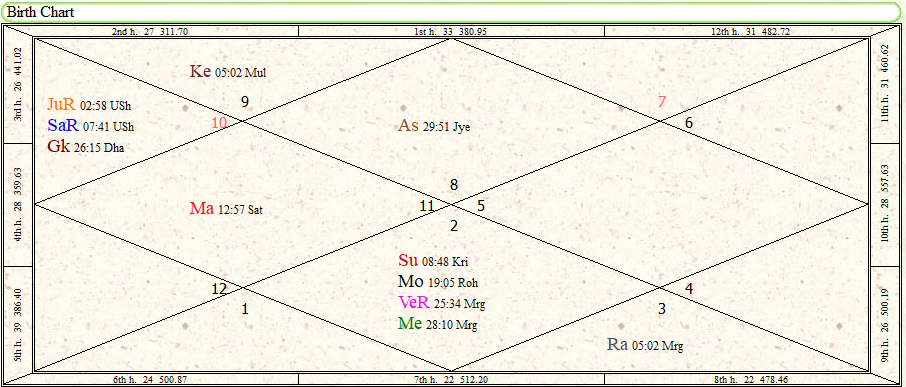 Mars in 4th house aspects 7th house (House of Marriage), 10th House (House of Profession), and 11th House (House of Gains). Mars presence in 4th house i.e. Sukh Bhava can minimize sukh, samridhi in native's life (if ill placed), and vice versa. Its aspect on 10th House can help a native take up a commanding job/people management roles (if well placed). From this position it also aspects 11th House, it can also increase the gains for the person through his/her profession. Through this position Mars aspects two important Marriage Houses i.e. 4th and 7th, ill placed/aspected Mars can even lead to conflicts between Husband & WIfe which can even lead to domestic violence and fatality (in case Mars connects with Saturn, Rahu, and Ketu).
Mars in 7th House
If your horoscope has Mars in 7th house, it would look like the below image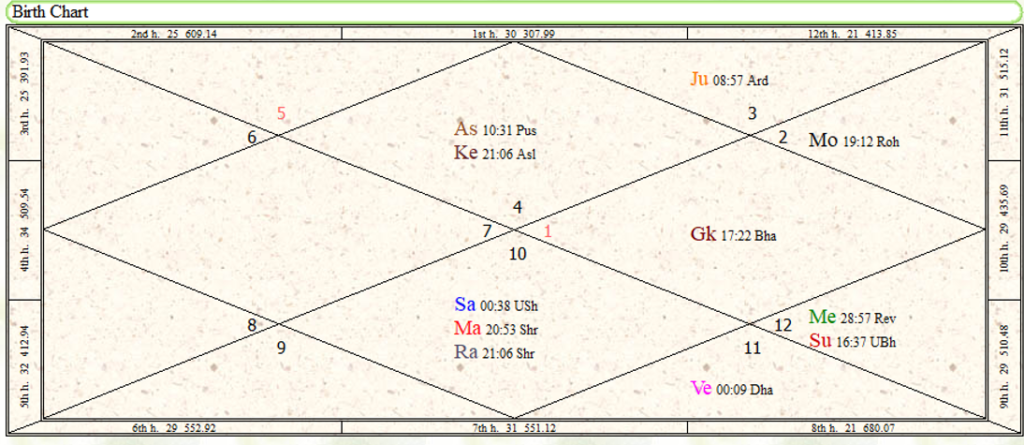 Mars in the 7th House is also known "Kuja Dosha", this yoga has been popularly used by Astrologers as a significator of Late Marriage/Denial in Marriage. However, please ensure that not alone this factor is responsible for Late Marriages/ No Marriages. There are other situations in place and Kuja Dosha is one of them. Mars presence in 7th House leads to its aspect on 10th House, Lagna and 2nd House. Our marriage consultation focuses on unique set of remedies to help our clients eliminate the problem of Late Marriage/ Delayed Marriage.
Mars in 8th House
If your horoscope has Mars in 8th house, it would look like the below image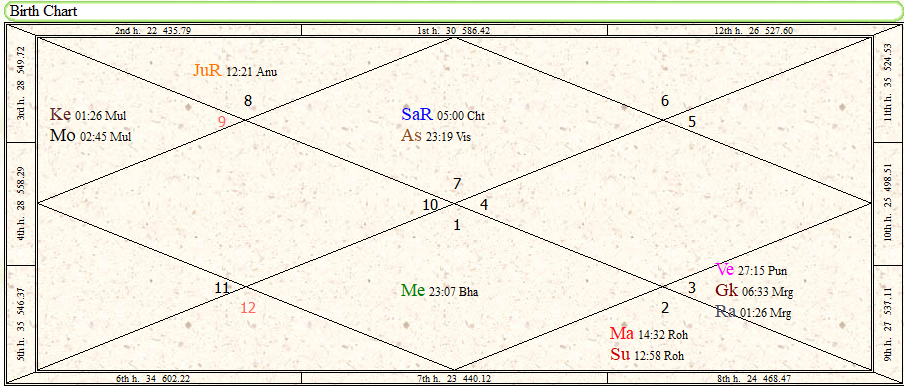 Mars in 8th House can impact sexual organs if ill placed, it can even lead to fatal death of the partner if the other person is not manglik. It aspects 11th House, 2nd House and 3rd House from this position. Aspect of Mars on 3rd House makes a native hard working and courageous. If its ill placed it can impact younger siblings of the native and can also lead to troubles during short travels.
Mars in 12th House
If your horoscope has Mars in 12th house, it would look like the below image
If Mars is in 12th House it aspects 3rd House, 6th House( House of diseases and enemies), and 7th House. A well placed Mars aspect on 6th House help the native to give a tough fight to his enemies in every sphere of life. However, an ill placed Mars can lead to blood related diseases, surgeries, hospitalization, defeat from enemies, problems in job etc. Mars impact 2 important houses of Marriage from 12th House i.e. 12th House and 7th House. 12th House is a symbol of bed pleasures and 7th House also contributes to a person's sexual desire. In this case this area becomes very important in marriage.
Should a Non Manglik person marry a Manglik person??
Now the main question arises, should a Non Manglik person marries a Manglik one. As per most of the astrologer's if this happens the Non Manglik person can die. However, in my opinion only Mars cannot be held responsible for early death of a person there are other factors which contributes to longevity. In my opinion if a Non Manglik person wants to marry a Manglik person they can do it after the Manglik person turns 28. However, the Manglik Dosha would remain intact but to a lesser degree. There are more remedies available which can be done before a Manglik person marries a Non Manglik one. We suggest remedies basis your horoscopes.
Are you also facing the Manglik/Non Manglik marriage dilemma!!! Consult Now for a better advice!!